What is an intentional organization?
There's a need to focus on a different kind of organization: one that truly takes care of its employees, that treats everyone as humans, that invites everyone to the table. Many startups focus only on the business side of things as they grow, neglecting the organization, without which their business wouldn't exist. The Intentional Organisation is our contribution to providing guidance and ideas on how founders, entrepreneurs, and executives can change that. An intentional organization is continuously learning and inclusive at its heart. It invests in its people and cares about the craft of how things are made. It's aiming for clarity wherever there is uncertainty.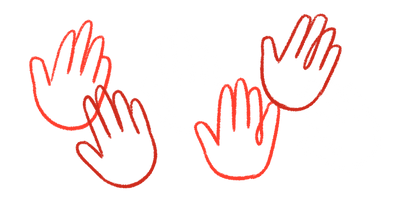 The current status quo is that, for many startup founders, the business takes the front seat. It is, after all, why they started a company in the first place. Along the way, an organization grows around the business model. The founders hire people to take over responsibilities and that feeling of a small, tight-knit group that they started with vanishes slowly but surely. Before you know it, a team of twenty-five people has grown around you. You're still trying to focus on the business–but that's not enough anymore.
At this point, it becomes crystal clear that something needs to change. You need to change. You need to take on a new role: that of a leader and that of a manager. You need to start thinking deeper, not just about the kind of business you're in, but about the organization you want to build. There are missions, visions, and values to be defined. And then there are the steps you need to take to implement and to live them.
There's a slew of ideas and business books that communicate grand ideas on the few things you need to do to build a great organization;but the reality is that this process is messy and complex. There's no one way to do something, there are many.
Decision-making turns into a slog, it's unclear who's responsible for what, information takes a long time to trickle through the team, and people are working in different directions, or are feeling left out of discussions. Founders and executives make decisions on a whim rather than considering the implications of their decisions. They're frustrated that work isn't getting done, or they think it's not getting done because they have less visibility and influence in a growing organization.
These things tend to happen as an organization grows, from a tight-knit group to a stage where it's impossible to know who everyone is and what they're doing all the time.
The important thing is to take the time to reflect on your organization and to understand it. Then you can start taking steps to focus on the organization as a whole: not just as a means of business, but as a place where it's crystal clear what value people contribute to the business. An organization where great work flows from great people, from a culture of inclusiveness, transparency, and continuous learning; an intentional organization.
We define this type of organization on three angles: inclusion, clarity, and learning.
Inclusion. Everyone has a voice and an opportunity to chime in, however big or small decisions are. The question of who is and who isn't at the table when certain decisions are made is always on people's mind. Everyone can be sure that their psychological and physical safety is of the greatest concern of their leaders.
Clarity. An intentional organization is clear on what it's trying to achieve and how it's looking to get there. It provides transparent channels for information to flow freely and for people to communicate.
Learning. Continuous reflection on and improvement of its everyday practices, of how work gets done, and of why things aren't working as expected, are a constant part of operating in an intentional organization. This provides its people, whether they're in leadership roles or not, with opportunities to learn new skills, to take on new challenges, and to contribute value beyond their defined role.
While we focus on the three traits of inclusion, clarity, and learning, we also acknowledge that there is no one way to implement them. How you go about and put those traits into practice depends highly on the kind of culture and behaviours that are specific to your organization, to your and your team's preferences and ideas, and to what works best in your environment, industry, and country.
As we write this, we're working on the book of the same title. It's an accumulation of everything we've learned about building an organization that puts inclusion, clarity, and learning at its center. We expect it to be published later this year. We're about 85,000 words into the journey, and we have a few more things to get into writing before we're ready to share.
We stipulate in our book that there's a spectrum of ways to implement the three traits. We present what we consider our best practices, a place where you can turn to and start thinking about how you want to implement them. It's a guide rather than a fixed way of doing things. By following our path throughout the book, you'll get to experience our own highs and lows and the learnings we've taken from them, and you can decide where your own path should lead you.
Meanwhile, we're also offering our coaching services to executive leaders, entrepreneurs, founders, and senior managers. We've been working in this capacity for years to help founders be more confident leaders and to build workplaces and teams that treat their people as what they are: humans.
Sign up for updates below, and we'll keep you posted on the book's progress and other new things related to building healthy, intentional organizations that we publish on this site. You can also learn more about who we are - meanwhile, here's a quick bio:
Sara Hicks is passionate about technology, design, product development, and startups. She loves the craft of building and shipping software, and is even more excited about designing intentional and inclusive processes for people and teams to be able to live their best lives and do their best work. Sara is a versatile product leader and former CEO and COO who has founded and sold tech companies. She works as a leadership coach and startup advisor, helping leaders navigate the challenges of leadership and management roles and building inclusive teams.
Mathias Meyer is an engineer turned entrepreneur turned executive leadership coach. Through the startups he's been involved in and founded he's turned his attention from debugging code to debugging and fixing organisations as a CEO and CTO. His focus is on people, culture, and the behaviours in the organisation just as much as on the customer and the product. "The Intentional Organisation" is a culmination of his experiences along the way. These days he works with founders and leaders to mentor and coach them to make sense of what they're experiencing, personally and in their organisations.
Read our newsletter
Sign up to receive our journal updates and to get previews of our book.
Smallprint
You can unsubscribe at any time by clicking the link in the footer of our emails.