The First Intentional Organization Offsite
After three years of not meeting in person, we traveled to far flung Nova Scotia in Canada to reconnect and come up with a plan for 2023. Here is everything we did to make it successful and to ensure there is plenty of room for serendipity during our time together.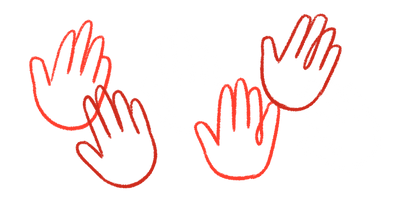 Sara and Mathias here! We are in Chester, Nova Scotia on the last day of our first-ever Intentional Organization offsite. Due to the pandemic and whatnot, it is our first time getting together in over 3 years. Going into the week, we both were seeking clarity on getting our book published–making plans to finish the editing and getting a clear path and timeline to publishing it to the world. We also wanted clarity on our business goals for 2023.
After the first day together, we realized that our week together really wasn't about getting clarity on the book or the business. Of course, that was still important, but we realized that our time together was more about reconnecting as people and redefining our partnership and values.
And that is the topic for this post. Too often offsites are used for too much planning and working, when really it's about connecting with each other, establishing new roots, and creating new stories together.
Here's what made our offsite a success:
📓 We had an agenda for each day with pre-work and guiding questions for each day. In one of our weekly calls before the trip, we discussed topics and outcomes we both wanted for our week together. Those topics turned into pages in our Notion workspace that we divided up by day. From there, in advance of the offsite, we each added answers to some of the guiding questions. To make an offsite productive, it's key to commit to pre-work and to prepare the agenda ahead of time. We also had a list of things to bring (very important to know who is bringing the coffee-making gear!), and we each brought coffee beans from our local areas. We made it through all of the topics we'd put on the agenda, so yay us!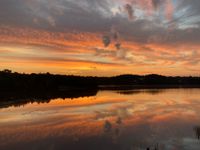 🌞 We each arrived on a Saturday. We used Sunday as a day to acclimate to the time zone and to prepare for our week, first enjoying a great coffee at Weird Harbour in Halifax, then enjoying a great brunch at The Black Sheep. We then started Day 1 on Monday with our Blueprint of We and drafting our vision and mission for The Intentional Organization. Afterall, this is what we encourage our clients to do, so we felt it was fitting to follow our own feedback. We already had a Blueprint from working together before, but we wanted to review and update it to reflect changes in our lives and our values, and to reflect that we're now starting a new company together.
The Blueprint serves as a guiding document defining our relationship, how we work together, and how we recover when things get tense. We've found that having a Blueprint for our partnership has been a great way to understand each other's interaction styles, warning signs, and ways to move toward peace and possibility. We depart tomorrow, Saturday, making this offsite a full week. We notice that many company offsites are only 1-3 days. In our view, that's just not enough time to be together. Those kinds of offsites are rushed and packed too full of content with not enough time for serendipity. We encourage leadership teams to not pack each day of an offsite with agenda items–rather we suggest keeping enough space and time to create an Order of Operations (OOO) for each day, adjusting as you go.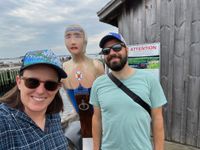 🌐 We met in the middle. Literally. Nova Scotia has been an ideal spot. It's a five-hour time difference for Mathias, and a four-hour time difference for Sara. It's a place neither of us had ever been to before, so that made it appealing. That's not a requirement for an offsite, but it's a good way to make it a neutral experience for everyone. We found a place by a lake, with a pier so we could do our daily Pier Reviews! Pier Reviews are something we established in Scharmützelsee, Germany – our end-of-day reflection on a pier. Beyond requiring a similar amount of travel, a pier was one of our key criterias in finding a spot for our offsite.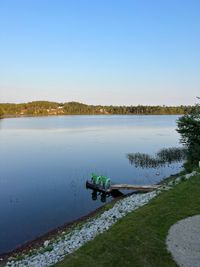 🏊 There was a good mix of work and unstructured play. We aimed to start each day around 8:00 in the morning. After watching the sunrise and each enjoying a cup of coffee, we spent the mornings working on our topics for the day–each of us taking notes as we talked through our various topics. In the afternoons, we explored the local area, picking up local fruits and veggies from the numerous road-side stands. We ended each day with a swim in the Atlantic! Well, Sara went in twice and Mathias made it a daily habit. After the Pier Review, we spent the evenings cooking some of our favorite meals that we've enjoyed together in the past–ratatouille, pasta with fresh veggies, and a new recipe for Sara, veggie carbonara. Cooking together has been an important part of our relationship.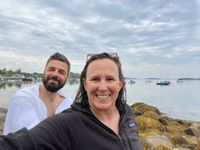 Surprising Things we Learned in or About Nova Scotia
🌳 Pretty much the whole Nova Scosh (how we've endearingly been referring to this lovely part of the world) peninsula is covered in forest. It shouldn't be surprising, as that's what our whole planet used to look like. But now so much of it has been felled to make room for agriculture. It's been quite marvelous to see from above and from down below. The climate is so interesting, bright and warm sun throughout the day, with cool to cold nights, and fog in the mix too. Which seems to provide a great foundation for the next point.
🍇 Nova Scotia has a small but thriving wine industry, alongside lots of breweries, cider producers, and distilleries. The climate here seems to support growing wine quite well. In parts, you can observe why: the winds, the areas, the soils, they do seem familiar when you've been to different parts of Europe, where wine is grown. If you ever make it out here and fancy some good wine, we highly recommend visiting Lightfoot & Wolfville, near the endearing little town of Wolfville.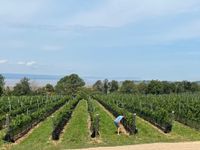 🥛 Donair sauce is a local specialty. It's a sauce made of sweetened, condensed milk with garlic and vinegar. We had it with a garlic finger pizza, and it worked surprisingly well. But if we hadn't asked before, we'd have been in for a big surprise trying sauce and pizza together. Apparently, donair sauce's origins lie in döner kebap and gyros, a wrap with origins in Turkey, Greece, and also, Berlin, where the modern fast food döner supposedly took shape. Hey, one of us is from Berlin! Döner sauce in Berlin is usually made with yogurt. It's curious to see it made with sweetened, condensed milk around here. We couldn't find a satisfying explanation on when the switch was made. We would've loved to have been there when a Greek immigrant made the switch in 1972 and had a moment of amazement that this could work. Anyway, our guess is, the extended shelf life of sweetened, condensed milk must've played a factor. But don't quote us on that. If you are as baffled and amazed as we are by donair, here's some good history for you, and there's even a local rap video celebrating donair!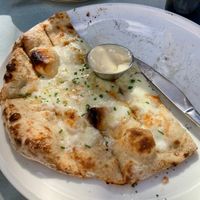 🦸‍♀️ We tried to pick a person of the day everyday, a prestigious award that we gave away in the moment or retrospectively. On Sunday, we visited Petite Riviére, a vineyard in the LaHave region. Our person of the day there was generous with stories about how their wine is made and poured us whatever we felt like trying. On our second day in Chester, a woman by the beach, with a dog named Maisie, encouraged us to jump in the water, promising us to emerge as a different person. We did, and we didn't look back. On day three we visited Lightfoot & Wolfville, where Suzanne took us under her knowledgeable wings and led us through so much of what the winery has to offer. The restaurant was closed and we vowed to come back on Thursday, and we did. Our second visit had us elevate Suzanne to our person of the week. She was a joy to hang out with. Thank you, Suzanne, woman by the beach, and person at Petite Riviére. We apologize for not having gotten all of their names, but we know and cherish who they are and our time with them!
As you can hopefully feel from this post about our offsite, it's important to periodically connect via an offsite. These kinds of offsites apply to every kind of company–colocated, hybrid, distributed. If you're interested in learning more or if you're interested in some help planning and facilitating your next offsite, get in touch. We'd love to help!
Read our newsletter
Sign up to receive our journal updates and to get previews of our book.
Smallprint
You can unsubscribe at any time by clicking the link in the footer of our emails.